« I Dream of Supercross | Main | Letter to Pat Robertson »
August 24, 2005
Dr. Madden
If you had an opportunity to watch the Monday Night Football preseason game last night, you missed some high quality television. Obviously, I'm not talking about the game. Few people can get excited about a meaningless scrimmage where all the decent players sit out after the first period, leaving a handful of late-round draft picks to trade blunders for the next two hours. But if there is one man that can get excited about this spectacle, it's TV commentator/video game mascot John Madden.
Americans love Madden. I don't know why, exactly... but I've got a theory. It goes something like this:
*Americans hate anyone smarter than they are.
*Americans are idiots.
*What Americans don't hate, they love.
*Americans Love Madden.
So there you go, an explanation for the popularity of John Madden, Blue Collar TV and the current state of American politics - all rolled into one.
Anyway, back to this preseason matchup between the Seahawks and the Cowboys. During the game, some player took a pretty hard shot and had to leave the game to have some x-rays taken (they have x-ray facilities at all NFL stadiums). Later on, ABC's camera crew got a shot of some coaches looking at the x-ray images on the sideline. It was a fairly distant shot, the details of the image weren't all that clear... certainly not clear enough to really see what the coaches were looking at. But that sure didn't stop Madden.
Upon seeing this over-the-shoulder image of the x-rays, Madden launches into what can only be described as an attempt at medical diagnosis. Hell, it might have been pretty convincing too - had the diagnosis come from the mouth of, you know, VIRTUALLY ANYONE OTHER THAN JOHN MADDEN.
"What they're looking at there, Al, is a FEMUR. Yeah, and it's not lookin' so good! Ooh, I think I see a crack there. You see it, Al? That's what the coaches are looking at, Al - it's a cracked femur! That big guy's out 4-6 weeks."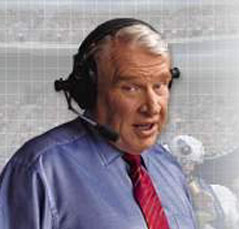 He's not a doctor. But he plays an idiot on TV.
Meanwhile, Madden's sidekick Al Michaels gently, yet with increasing desperation, tries to change the subject. Like I said, it was good television.
And it also made me wonder: why isn't John Madden's interest in medicine incorporated into the newest incarnation of his popular football game, Madden 2006? The game has gotten fairly weak reviews, due to a lack of compelling new features. So here's an idea for Madden 2007: Dr. Madden mode. In previous versions of the game, players would get injured from time to time. Though it's assumed they receive treatment, you never really get to see it in the game. Well, in Dr. Madden mode, you not only get to see your banged-up players treated on the field, but you get to see them treated by Madden himself! This, in turn, becomes a sort of mini-game. As Madden waddles down from the press booth, you must jam your X-button repeatedly in order to get your injured player to crawl off the field before the big guy can "treat" him (thereby ending his season, possibly his career). Alternately, you might be able to play the role of Dr. Madden... poking and prodding the injured player with an assortment of strange medical implements. As you progress through the game, you can unlock new and terrifying devices that Dr. Madden can use to torment fallen footballers.
Hey, if video game designers are willing to give a medical license to freaking MARIO I guess they'll let anyone practice medicine.
Posted by Joey at August 24, 2005 02:51 AM
Comments
Can I get Dr. Madden to write my players prescriptions for various medications to improve their performance? That would be neat.
Posted by: Spork at August 25, 2005 01:38 AM
DOES ANYONE KNOW WHAT MONDAY NIGHT GAME MADDED
MISSED DUE TO HIS FEAR OF FLYING
GREEN BAY VS CHICAGO
TENNESSEE VS NEW YORK
PRO BOWL
NEW ENGLAND VS DENVER

Posted by: RENEE at October 20, 2005 01:50 PM
Uh... I give up, RENEE. Please bestow your obscure football trivia knowledge upon us.
Posted by: joey at October 25, 2005 12:49 AM
Post a comment
Thanks for signing in, . Now you can comment. (sign out)
(If you haven't left a comment here before, you may need to be approved by the site owner before your comment will appear. Until then, it won't appear on the entry. Thanks for waiting.)